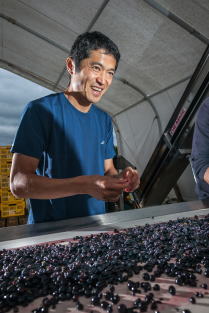 | | |
| --- | --- |
| | Shigehisa Kimura |
He strarted his wine career as a sommelier in a top hoel in Tokyo where he worked for 10 years. He was a qualified sommelier which is a highly sought after wine qualification in Japan. A trip to France to see some Vineyards and wineries bewitched him and inspired his winemaking venture. After this, Shige decided to move to New Zealand to study winemaking.
After completing a winemaking certificate at EIT, Shige worked for Villa Maria and Clos Henri vineyards in Marlborough. He set up his own wine company KIMURA CELLARS in 2009 after coming back from vintage work in Oregon in the USA.

Simplified personal history
DIPLOME DE SOMMELIER (Japan Sommelier Association)
Certificate in Winemaking & Grapegrowing (EIT)
Diploma in Viticulture & Wine production (NMIT)
WSET advanced certificate ( Wine & spririt Education Trust)
Bachelor of Viticulture and Oenology (Lincoln University)



| | |
| --- | --- |
| | Mieko Kimura |
Mieko was born in Tokyo. She worked for a top hotel as a receptionist and telephone operator in Tokyo.
She helps Shige with paperwork and sometines looking after the vineyard.

She moved from Japan to Napier, New Zealand with Shige in 2004. After moving Marlborough in 2009, she worked for grape nurseries. She began a certificate in wine by correspondence course in 2009 as she developed and interest in wines since she moved to New Zealand. Working for Villa Maria estate during the 2011 vintage was a great experience for her and it made the most of the knowledge that she had learned from the course.